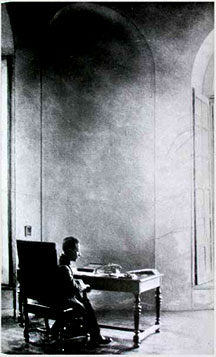 Rainier Maria Rilke works at his writing desk in the Hôtel Biron, Paris [Source: Requiem for a Friend]
I found this photo yesterday as I jumped from Rainier Maria Rilke to Paula Modersohn-Becker and back again. It comes from a web site supporting a 2005 independent film (The Greater Circulation) about the writing of Requiem for a Friend. I'm not absolutely certain wheter the image here is historic or comes from the film. Something about the setting of this photo felt familiar. Hôtel Biron. Where was that? My map-making mind wanted to know. Have I been there? Which arrondissement?
This morning I came across a photo by métrogirl that made it all clear. The Hôtel Biron is the site today of the Musée Rodin in the VIIe. I have been there. Mmétrogirl has published a fine Musée Rodin photo set.